Supporting the Family: Parents as Teachers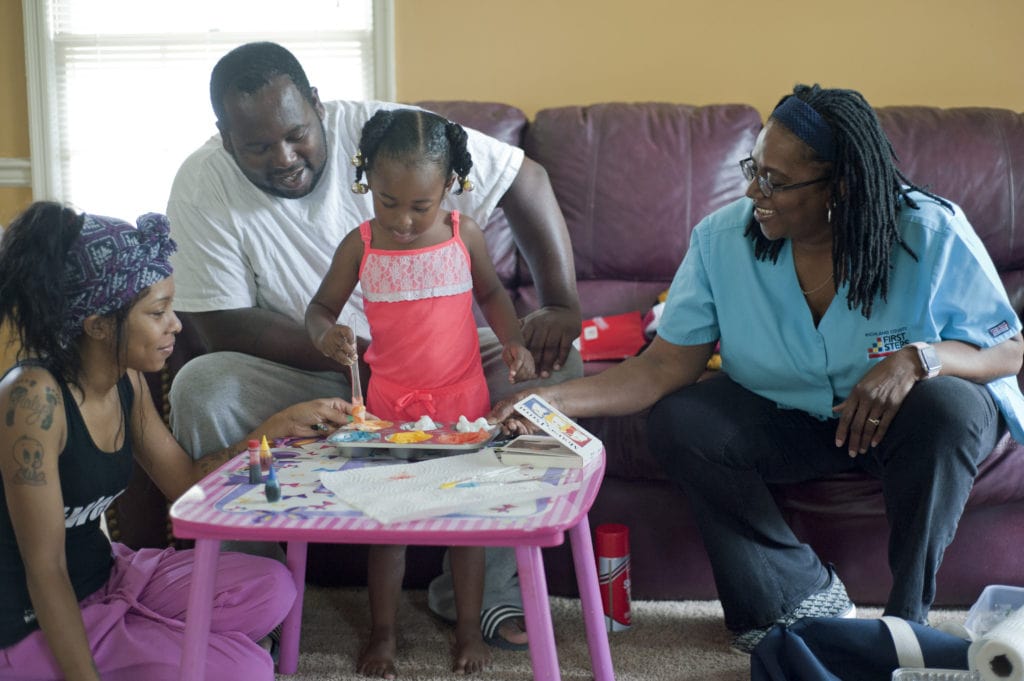 Parents as Teachers (PAT) is an internationally-recognized organization that started in Missouri in the early 1980s to get children ready for school and increase parental awareness of their role in being their child's first teacher. Since its inception, PAT's objective has been to build strong communities, thriving families, and children that are healthy, safe and ready to learn by matching parents and caregivers with trained professionals who make regular personal home visits during a child's earliest years in life, from prenatal through kindergarten.
South Carolina First Steps is proud to be the South Carolina state office for Parents as Teachers. As such, we'd like to share some key information about the program, its benefits, and what a typical visit entails.
What is home visiting?
Through Parents as Teachers, SC First Steps is able to offer a home visiting program that directly promotes parent resilience, knowledge of parenting and child development. The program focuses on parents and helps them to support their child's development and readiness for school. Essentially, it aims to do four main things:
Increase a parent's knowledge of early childhood development and improve parenting practices;
Provide early detection of developmental delays and health issues;
Prevent incidence of child abuse and neglect; and
Increase a child's school readiness and school success
What does a typical home visit look like?
A home visit with a parent educator is usually a planned one hour visit that happens twice a month. There is always parent-child interaction and the parent educator explains what the child is learning. Parents often read a book to their child and discuss literacy. Also during this visit, parent educators talk to the parents about their goals and help them to find and connect with any resources they may need.
Is there a specific curriculum that the PAT program uses?
Yes, PAT's core Foundational Curriculum is evidence-based and enhances child development and promotes parent engagement and school performance by communicating with families often before a child is even born. The model for the curriculum has for components:
Personal home visits
Group connections
Child screening
Resource Network
The goal of the curriculum is to engage parents and to help them understand the important role they plan in their child's development and educational success.
What are the benefits of participating in the PAT home visiting program?
The primary reason a parent would want to participate in a home visiting program is to improve the level of school readiness and academic achievement for their child. Other positive benefits include improved parenting knowledge, parenting behavior, parenting attitudes and family literacy habits.
What are some other important things to know about the PAT home visiting experience?
A huge misconception about home visiting is that a parent educator is going to judge you and report you to a child welfare agency. That is not what the program is designed to do. Instead, our training and curriculum are designed to build on family strengths, capabilities and skills and build protective factors within the family. Home visiting is a part of supporting families. Our parent educators are there to provide the information, support and encouragement parents need to help their children develop optimally during the crucial years of life.
How do I learn more about PAT?
Visit parentsasteachers.org to learn more.

QUICK FACT:
A study of more than 7,000 kindergarten students showed that Parents as Teachers, especially when combined with preschool, narrows the achievement gap, particularly for children in poverty. According to the researchers, participation in PAT predicts children's school readiness and third grade achievement, regardless of income level.
---